Purification Products For Business
The C-50 is a high volume distiller that is designed for institutions that have a greater daily demand for distilled water. This unit produces more that 50 gallons per day of distilled water which is distributed to various point of use devices. Built with the same high quality standards as our other units, the C-50 is perfect for laboratories, schools, restaurants, hospitals, plating facilities, dental clinics, and food service companies. One unique feature of the C-50 is its purity monitoring system. If the unit detects a change in the purity level of the water, the unit will shut down and an alert will be displayed on the control panel.
For information on the C-630. Please contact us for Details
C-50
The C-50 is a compact distiller that uses Food-grade 304 stainless steel throughout. It is designed with quick-connect fittings for easy installation. Similar to the other distillers, feed water is automatically pumped into the boiling chamber. Unlike the other units, the C-50 heats the water with dual heating elements which covert the water to steam. The steam rises and enters the patented condenser where cool air from the blower fan cools the steam and converts the steam into distilled water. The distilled water flows into the 50 gallon storage tank where it is monitored for purity and water level by the solid-state control system. The distilled water is pumped through a demand pump and post-filter to the intended point of use. The C-50 has an easy access door with a control panel. For security purposes, this door can be locked.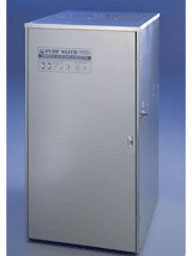 specifications
| | |
| --- | --- |
| Width | 24.5" |
| Depth | 31.5" |
| Height | 47.5" |
| Weight | 195 lbs. |
| Current draw (120V) | 50 amps |
| Total Wattage | 6500 watts |